6th NATIONAL EXHIBITION OF SCOUT/GUIDE PHILATELY
(VI EXPOSICIÓN NACIONAL DE TEMÁTICA SCOUT-GUÍA)
Club Filatélico de Scouts y Guías organized the VI National Exhibition of Scout/Guide Philately (the fifth with international participation) in Madrid October 19 to October 26, 2001. (El Club Filatélico de Scouts y Guías organizó la VI Exposición Nacional de Temática Scout-Guía (5ª con Participación Internacional) en Madrid del 19 al 26 de octubre de 2001).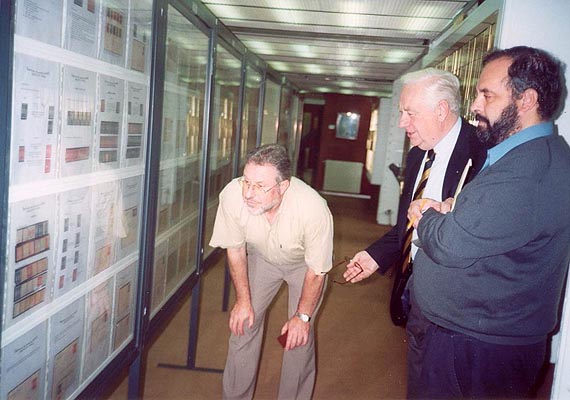 Club's Members Jan Cosyns (Belgium), Giovanni Cucchiani (Italy) and Estanislao Pan (Spain) talking about different pieces on display. (Los socios del Club Jan Cosyns (Bélgica), Giovanni Cucchiani (Italia) y Estanislao Pan (España), comentando alguna de las piezas expuestas.)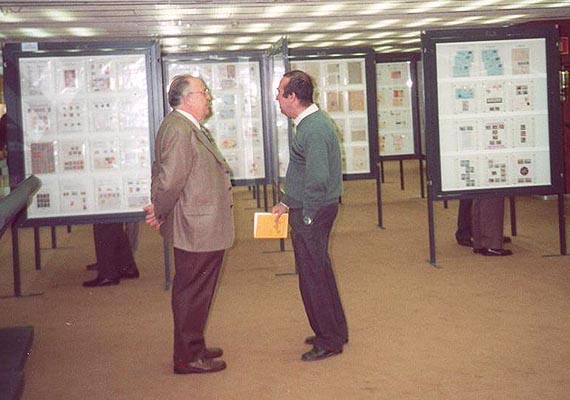 Exhibition aspect with the Club's President, Mr. Luis Martinez de Salinas attending some philatelic visitors. (Vista general de una parte de la Exposición, con el Presidente Luis Martínez de Salinas atendiendo a a uno de los visitantes filatélicos de la muestra.)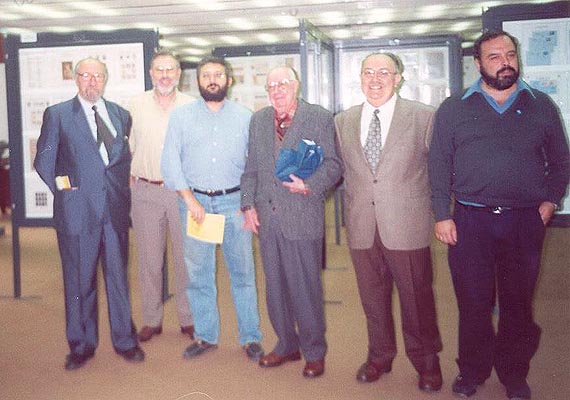 From left to right, fellow Club members: Manuel Subira, Jan Cosyns, Julian Rodriguez, Enrique Genoves (passed away in March 2004), Luis Martinez de Salinas and Estanislao Pan. (De izquierda a derecha, diversos Socios del Club: Manuel Subirá, Jan Cosyns, Julián Rodríguez, Enrique Genovés (fallecido en Marzo de 2004), Luis Martínez de Salinas y Estanislao Pan.)

Fraternity Lunch: Come and try next time! (Comida de Fraternidad: ì Ven y participa la próxima vez !)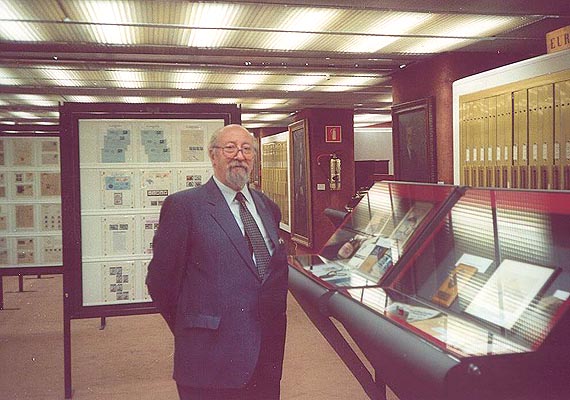 Manuel Subira with his collection (Philately and Scout Memories); he attended four (4) World Scout Jamborees (1951-Austria; 1957-England; 1963-Greece and 1975-Norway). (Manuel Subirá posa delante de su colección filatélica y de los impresionantes recuerdos de sus cuatro Jamborees Mundiales (1951-Austria; 1957-Inglaterra; 1963-Grecia y 1975-Noruega).

Michel Couraudon, from France, with his nice Scout philatelic exhibition. (Michel Couraudon, impulsor y creador del Club francés de Temática Scout-Guía, posa delante de su estupenda colección.)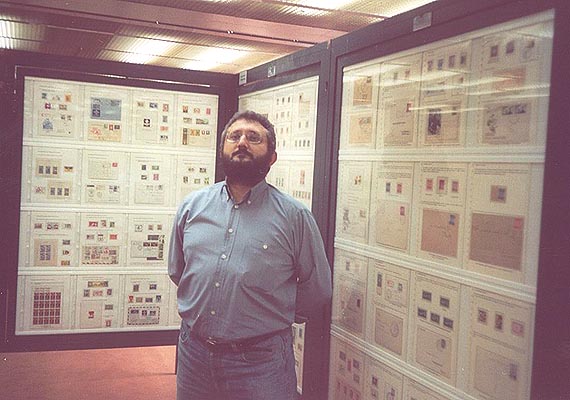 Julian Rodriguez with his exhibition "Once a Scout, Always a Scout". (Julián Rodríguez posa delante de su colección filatélica titulada "Una vez Scout, siempre Scout".)